CLICK TO VIEW PHOTOS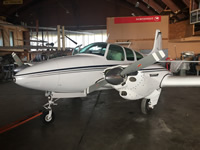 N7TB
1966 Beechcraft D95A
S/N TD-651
Airframe: TTSN:  2928.5 Hrs.

Engines: Lycoming IO-360-B1B

Left Engine: S/N L-27294-51A TTSN:  2356 Hrs. 
176 Hrs. SFOH (Lycoming O/H on 01/17/2000)

Right Engine: S/N L-1906-51A TTSN: 2928.5 Hrs. 
970.55 Hrs. SMOH (Piedmont O/H on 07/17/1989)

Props: Hartzell 2-Blade Model: HC-92 WK-2B
Serial Numbers: 1667F / 1675F, TSN:  2928.5   22 Hrs. SPOH (Anderson Propeller on 05/12/2009)

Avionics:

King KMA 24 Audio Panel
Intercom
Narco 810 Com
Narco MK12D Nav/Com
King KN 73 G/S
King KA-40 remote 3 Lite MKRB
King KI 525A HSI
King KI 226 RMI
King KR 85 ADF
(2ea) Narco AT 150 XPdrs/ AR 850 Encoder
King KN 64 DME
Narco DME 891
Apollo 604 Loran
WX10 Stormscope
King KT 96 Telephone
Brittain B5C Autopilot

Delivered with a fresh Annual
PRICE REDUCED!!!!
REMARKS:
Paint and Interior is an 8+ No major damage history.
Beryl D'Shannon Windshield and side windows
Cleveland Wheels & Brakes
Aluminum Elevator skins
No Corrosion
No Major Damage History, never had a gear up landing.

This airplane is in excellent condition, low airframe time, good engine & prop times.

Price REDUCED: CALL RON HANSEN FOR PRICING AND DETAILS.

Record information is in Adobie PDF Format so its easy to print out for your review. You will need Adobe Reader to view the documents. You can download it here if you
don't have it.


AIRCRAFT RECORDS

| Airframe 1 | Airframe 2 | Left Engine | Right Engine |
| --- | --- | --- | --- |
| Left Prop | Right Prop | Airworthiness | Registration |
Prices are in U.S. Dollars, FOB St. Paul, Minnesota, U.S.A., and are subject to change without notice. Prices do not include taxes, duties or tariffs. The accuracy of the above specifications are only offered as to the best of our knowledge at the time this document was printed. Aircraft is subject to prior sale and/or removal from the market. Aircraft to be sold "as is, where is." All specifications and representations of the aircraft are subject to verification by the buyer before purchase