CLICK TO VIEW PHOTOS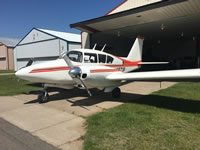 N4971P
1963 Piper PA-23-235 (250 HP)
S/N 27-573
Airframe: 3300Hrs. TT
Engines:

Lycoming O-540-A1D5
Serial Numbers: L-3356-40/L-3359-40
SMOH: 243 Hrs.
Props:
Hartzell: HC-A2MVK-2
Hub Series: H906/H2110
Avionics:

PMA 6000M-C Audio Panel Beacon Marker Lights
GNS 430 NAV/COM GPS
KX155 NAV/COM with ILS
KT76A Transponder
ACK TECH E-10 ELT
4 Stereo Headset Jacks
Remarks:

140 hours SOH on Prop Governors
New Oil Pan Heaters LT & RT
New 70 Amp Alternators
O/H Carburetors L&R
New Starters
New Aux. Elec. fuel pumps
New Magnetos
O/H Left & Right Engine Mounts
New Vacuum Pumps
Annual: 06/01/2017
No Known Damage History
Price: $55,000.00 USD as is or $85,000.00 with 2 freshly overhauled engines.


Additional Equipment:
Cherry Wood Inst. Panel Overlay
STC-SA 597SW-Miller Extended Nose Kit S/N 211-provides airframe modifications to match later production Aztec models.
STC-SA339SW-Howard Research & Development Electric Hydraulic Pump for backup to Engine Driven Pump for Landing Gear & Flap Operation.
History:

This aircraft is one of the last few Apaches built by Piper in 1963 and during this period the Aztec was also in production. The Apache had 235 HP engines & five seats, while the Aztec had 250 HP engines & five seats. This aircraft is registered as an Apache but configured with 250 HP engines. All other aspects between the two models are minimal, therefore the owner refers to the plane as an Aztec. The plane has been thoroughly restored to airworthy condition, following a period of non-use. Hanger stored since restoration completion. Condition of this aircraft is excellent with extensive documentation available upon request.
Records

Record information is in Adobie PDF Format so its easy to print out for your review. You will need Adobe Reader to view the documents. You can download it here if you
don't have it.


Featured Aircraft